Once again, brains triumph over brawn!
― Bentley to Jean Bison after defeating him
Bentley, the brains, is the deuteragonist of the Sly Cooper series. He is a male turtle with green skin and black eyes which are covered by glasses, which he needs due to being nearsighted.[1] He is best friends with Sly Cooper and Murray, and is he a member of the Cooper Gang. His significant other and rival is his ex-girlfriend Penelope.
Bentley first appeared in Sly Cooper and the Thievius Raccoonus at the age of 18. Although his current age is unknown, He was 20 in Sly 2: Band of Thieves and 21 in Sly 3: Honor Among Thieves, but an unknown amount of time passed between that and Sly Cooper: Thieves in Time. At the end of Sly 2, Bentley lost the use of his legs and currently uses a highly-modified wheelchair that actually makes him more mobile and powerful than he was while able to walk.
He was voiced by Matt Olsen in all of his game appearances.
History
Background
As a young turtle living with his family in the swamp he called home, Bentley wandered away from his siblings due to his nearsightedness. A relative of Mrs. Puffin found him and delivered him to the Happy Camper Orphanage.[1][note 1] He quickly became friends with Murray and Sly when they arrived. They soon combined their skills—Bentley's knowledge, Sly's athleticism and Murray's enthusiasm—and created a lifelong bond.
The trio's first "heist" was stealing a cookie jar from Mrs. Puffin. Dubbed the "Cooky-Steelin' Plan by Bentley," the plan called for Sly to hide in Puffin's trash can and wait until she left for the night. During the heist, Bentley kept in contact with Sly via an invention he created called the "cupinator," which was simply two cans connected by a piece of string. Both Bentley and Murray waited outside the office window on a tricycle. Bentley had calculated that they only had 3 minutes and 42 seconds until the janitor came to clean the room. While Sly got into position, Bentley told him that they had run out of time. Murray vowed to save Sly and pedaled away from the window while Sly was pulled along by the cupinator before he could grab the jar. Not realizing Bentley did not put brakes on the tricycle yet, Murray crashed it. Sly told the gang that they were lucky. Bentley wondered what Sly meant, as they had seemingly failed the mission. Sly then revealed that he managed to store all the cookies in his cap before Murray pedaled away. The three began eating the cookies together, and thus the Cooper Gang was born.[2]
Sly Cooper and the Thievius Raccoonus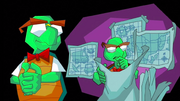 Helping Sly and Murray from behind the scenes, Bentley was essential to the gang's exploits in retrieving the Thievius Raccoonus, even though he never stepped out of the safety of the Cooper Van. Bentley did most of the planning, but when Sly fell victim to a gas chamber trap, he put aside his fears and hacked Clockwerk's computer to save Sly's life, as well as the life of Carmelita Fox. After the defeat of Clockwerk, Sly later contemplated that he would not have gotten anywhere without the help of Bentley and his expertise.
The Adventures of Sly Cooper #1
Bentley and the gang planned to steal the Venus de Whalo from Dimitri Lousteau and his fiancée Beverly D'Oinkeau during a party at their mansion. Arriving in Monaco, the plan went awry when Sly was caught by Dimitri's guards. Executing plan B, Bentley and Murray disguised themselves as guards and lured Inspector Carmelita Fox—who was invited by D'Oinkeau—away from the Venus de Whalo. They then stole the statue and began loading it into the Cooper Van. Realizing that they had ran 12 minutes and 37 seconds over schedule, Bentley told the gang that they had to wait 45 minutes until another boat arrived so they could leave on it. Sly quickly ran off, telling the gang that he would keep Inspector Fox busy. Bentley thought to himself that Sly went over schedule on purpose just to see Carmelita again. After distracting Carmelita for long enough, the gang escaped Monaco via the boat with the Venus de Whalo in tow.
Sly 2: Band of Thieves
Two years after Clockwerk's defeat, Bentley ventured out into the field for the first time as part of the Cooper Gang's heist to steal the Clockwerk parts from the Museum of Natural History. He disabled security systems and provided intel for Sly to make his way through the museum. After finding out that the Clockwerk parts had already been stolen, Bentley fled with Sly and Murray as they were pursued by Carmelita Fox and her new partner, Constable Neyla.
After escaping from the museum, the gang began tracking down the members of the Klaww Gang, who Neyla had hinted were behind the theft of the Clockwerk parts. Despite being a police officer, Neyla would slowly gain the trust of the Cooper Gang by helping them on occasion. The team first arrived in Paris, where they worked to steal the Clockwerk tail feathers from Dimitri Lousteau. It was here that Bentley performed his first job in the field alone. Despite nearly being overcome by nerves, Bentley's job was a success and would later help the gang gain access to Dimitri's secret hideout.
After defeating Dimitri and stealing the tail feathers, the gang traveled to India to steal the Clockwerk wings from Rajan, who was holding a party at his palace. They were able to retrieve the wings and sabotage Rajan's party and reputation in the process. Humiliated, Rajan fled deep into the jungle with the gang in pursuit. They tracked him down to an abandoned temple which he had converted into a spice production facility. In order to gather more intel, Bentley went out into the field and stole the temple schematics from right under Rajan's nose. Terrified, Rajan went into hiding, so the team launched a plan to drive him out by flooding the entire temple. Bentley's role involved providing cover fire at a distance while Sly and Murray used TNT to flood the area. They were successful in luring Rajan out and confronted him, with Neyla suddenly appearing and offering to help them. The confrontation ended with Sly being gravely injured and Rajan being defeated by Murray. When Murray asked Neyla to help him tend to Sly, Neyla refused and instead turned the pair over to the Contessa. Bentley could only watch from afar as his friends were betrayed by Neyla and taken into custody.
With his friends gone, Bentley made the dangerous trek out of the jungle alone. Determined to rescue them, he spent weeks tracking down their location, eventually learning that they were being held at the Contessa's prison in Prague. Arriving outside the prison walls, Bentley's first order of business was eavesdropping on the Contessa as she made her rounds through the prison. In doing so, he learned that the Contessa was secretly a member of the Klaww Gang and, more importantly, that Sly was being held in "the hole" of the prison. Bentley quickly devised a plan that culminated in him crashing a train into the prison walls and disabling the security surrounding "the hole." Sly was able to escape and reunite with Bentley. Together, they freed Murray but not before the Contessa found out and fled on her blimp. Despite her escape, the Cooper Gang took some time off to enjoy themselves after being apart for so long.
After the brief hiatus, the gang tracked the Contessa to her castle. After defeating her and stealing the Clockwerk eyes in her possession, they traveled to Canada and stole the Clockwerk lungs and stomach from Jean Bison, who retreated to his lumber camp in response. Further pursuing Bison in order to steal the Clockwerk talons, their mission took a turn for the worse when Bison knocked out the Cooper Gang, found their hideout, and sold all the Clockwerk parts they found to Arpeggio, the Klaww Gang's leader. Bentley was left to confront Bison alone and, despite the odds being against him, used his wits to overcome the hulking lumberjack. Afterward, the gang snuck onboard Arpeggio's airship by stowing away inside a northern light battery.
On the airship, the gang learned that Neyla was in league with Arpeggio, seemingly helping him achieve his dream of immortality using Clockwerk's reconstructed body. However, just as Arpeggio was about to merge himself with Clockwerk's body, Neyla killed him and took his place within the owl's frame, dubbing herself "Clock-La." With the help of Carmelita, who had also been betrayed by Neyla and wanted revenge, the gang launched an attack against Clock-La which ended in all of them crashing into the waters surrounding Paris. With Clock-La effectively defeated, the last order of business was to remove the Hate Chip from her body. As Murray pried open Clock-La's beak, Bentley reached inside to grab the chip. As he did so, the beak unexpectedly closed on him. Murray managed to free Bentley, but Bentley's injuries left him unable to walk.
With the Hate Chip removed, Clock-La, and by extension Neyla, was destroyed. Carmelita announced the end of their temporary truce and placed the Cooper Gang under arrest. However, Sly bargained with Carmelita to arrest him only and let his friends walk free. As Carmelita took Sly into her chopper, Murray walked away with Bentley in his arms. Before leaving, however, they took out the chopper's pilot and rigged the craft to fly in circles. This would later give Sly an opportunity to jump out of the chopper and escape from Carmelita.
The Adventures of Sly Cooper #2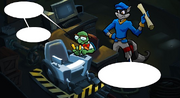 Bentley was hospitalized in order to recover from his ordeal. However, his paralysis remained and he would live the rest of his life as a paraplegic. During his stay, Sly and Murray managed to retrieve a map to the Cooper Vault. Needing Bentley's help to come up with a plan for reaching the vault, they broke into the hospital and brought Bentley back to the hideout. There, Bentley fashioned an ordinary wheelchair into one equipped with gadgets and weaponry, giving him just as much, if not more, capability as he had when he could walk. As the gang was preparing to head out for the Cooper Vault, Murray unexpectedly announced that he was leaving the team. Blaming himself for Bentley's paraplegia, Murray said goodbye to his friends and left.
Though taken aback by Murray's sudden departure, Bentley and Sly nonetheless traveled to Kaine Island, the location of the Cooper Vault. However, they were shocked to find the island transformed into a high-security fortress by Dr. M, a mad scientist who had seemingly spent many unsuccessful years trying to crack open the vault. The duo realized that infiltrating the fortress and getting into the vault would require an entire team of specialists.
Sly 3: Honor Among Thieves
In assembling a team for the Cooper Vault job, Bentley and Sly's first order of business was getting Murray to rejoin the Cooper Gang. They learned that Murray was somewhere in Venice and, with Dimitri Lousteau's help, were able to locate him. Murray, who had become a pacifistic Dreamtime student under the tutelage of the Guru of the Stone, agreed to rejoin the team only once "the black water [ran] pure." Bentley and Sly worked to fulfill this vision by stopping local crime boss Octavio from pumping tar into the canals. They enlisted Murray's help for one job in which he used his Aboriginal Ball Form to destroy some underground tar pumps. Murray was initially reluctant to help, believing it to be a return to his old ways that were responsible for Bentley's paraplegia. Bentley reassured Murray that he didn't blame him for anything, and only wanted his friend back on the team with him.
Later, during the final battle with Octavio, the mobster knocked Bentley out of his wheelchair and prepared to kill him. Seeing his friend in grave danger, Murray cast aside his pacifistic ways and came to Bentley's aid by defeating Octavio in a fistfight. After fleeing the scene with his friends, Murray officially rejoined the team. However, Murray felt bad for never returning to the Guru, so to find closure the gang headed to Australia to meet with Murray's teacher. With the gang's help, the Guru drove out the miners that had encroached on his land, and he joined the team, becoming the first new member since the gang's creation.
As Bentley's RC skills were insufficient for the Cooper Vault job, he began looking for a specialist. After weeks of searching online chatrooms, he met Penelope, who he soon developed a crush on. Penelope was a mechanic for the Black Baron, a dogfighting champion who hosted the annual ACES competition. She agreed to join the team on the condition that they defeat the Black Baron at his own game. Traveling to Holland, the Cooper Gang entered ACES and, through various acts of sabotage, managed to reach the final round of the competition. It was then, during a final battle with Sly, that the Black Baron was revealed to be Penelope in disguise. With her cover blown, Penelope abandoned the Black Baron persona and agreed to join the gang. Though Bentley was attracted to Penelope, Penelope seemed to be more interested in Sly, much to Bentley's jealousy. Afterward, the team would head to China and recruit the Panda King for the Cooper Vault job.
Sometime later, the gang traveled to Blood Bath Bay at the request of Dimitri, who wanted their help in recovering the lost diving gear of his grandfather, Reme Lousteau. Learning that the gear was buried on Dagger Island, Bentley and Penelope snuck into a heavily guarded fort to retrieve a map to the island. During the job, Bentley expressed his feelings of jealousy toward Sly and his abilities. Penelope reassured Bentley by pointing out that Bentley and Sly had different strengths—Bentley was capable of many things that Sly was not and vice versa. Making it past the fort's security, the duo found the map to Dagger Island inside a treasure chest, which turned out to be booby-trapped and left Penelope temporarily blinded. Bentley guided a shaken Penelope back to the safe house and comforted her.
With the map in hand, the gang traveled to Dagger Island and successfully uncovered the treasure. However, they were ambushed by the pirate captain LeFwee, who took Penelope as a prisoner. The remainder of the team quickly launched a rescue mission during which they assaulted LeFwee's galleon and Bentley freed Penelope. Grateful, Penelope returned the favor when LeFwee appeared and knocked Bentley out of his wheelchair. Grabbing a cutlass, she battled LeFwee on the mast of the ship and knocked him into the sea, where he was devoured by sharks. In the aftermath of the rescue, Penelope realized she had become attracted to Bentley for his smarts, and the two officially became a couple. Dimitri also joined the team as their frogman.
The Cooper Gang then traveled to Kaine Island and infiltrated Dr. M's fortress, but their plan took a turn for the worse when they were caught by M and forced to flee. Bentley was caught by M's mutant and nearly eaten alive, but Sly distracted the beast to save Bentley. Though Sly was gravely injured in the process, he would later recover and finally be able to access the Cooper Vault with Bentley and Murray. Inside, Sly ventured further into the vault while Bentley and Murray guarded the entrance. It was then that Bentley began to have doubts about the nature of Sly's relationship with him and Murray; he wondered if he and Murray were simply subordinates to Sly since Sly was the only one who went into the heart of the vault. Murray reminded Bentley, however, that if the two had switched places, Sly would be happy for Bentley because he was something more than credit or treasure, he was a true friend.
Just then, Dr. M appeared, attempting to gain access to the vault. Bentley deduced that M had been a member of Conner Cooper's gang, serving the same role that Bentley currently did in Sly's gang. Given their similar experiences, M attempted to sympathize with Bentley's feelings and get him to turn on Sly. By this point, however, Bentley's doubt had been cleared, and he fought with Murray, unsuccessfully, to stop M from going further into the vault. Later, as the vault began to cave in from Sly's and Dr. M's battle, Bentley rushed into the heart of the vault to rescue Sly, but he was unable to locate him. The team searched the entirety of the island for Sly but would only end up finding his cane, backpack and a pile of treasure from the vault.
The Cooper Gang left Kaine Island and, when months passed without Sly's return, eventually disbanded. Bentley and Penelope remained together and constructed a new, more advanced Cooper Vault to maintain the Cooper legacy. They also began work on a time machine, which Bentley intended to use to see what the future held. Bentley also seemingly inherited the Thievius Raccoonus, becoming the first non-Cooper to write in the book. This emphasized one of Sly's earlier statements that Bentley was not a sidekick or lackey, but his equal. Bentley would later locate Sly and learn that he had begun a romantic relationship with Carmelita Fox.
Sly Cooper: Thieves in Time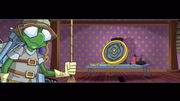 Just as Bentley and Penelope were completing work on the time machine, Penelope suddenly vanished. While searching for her, Bentley noticed that the contents of the Thievius Raccoonus were disappearing right before his eyes. He concluded that the person responsible must also possess a time machine and was intentionally attempting to erase Cooper history. Bentley located both Murray and Sly and asked for their help, to which they both happily agreed. The reunited Cooper Gang snuck into a Parisian museum to steal a dagger that would allow them to travel to the past using Bentley's newly-completed time machine. After stealing the dagger, the gang traveled to Feudal Japan and saved Rioichi Cooper from the time-traveling dictator El Jefe.
They then traveled to the 19th-century Wild West and freed "Tennessee Kid" Cooper from Toothpick, another time-traveling villain. They also rescued Carmelita Fox, who revealed that she had been captured and sent back in time by Cyrille Le Paradox, the owner of the Parisian museum, when she caught him unloading forged art. The gang realized that Le Paradox was the one behind the alterations made to the Thievius Raccoonus. The gang boarded Toothpick's train and defeated him, but were unable to stop themselves from unexpectedly driving off a cliff. In a moment of desperation, Bentley grabbed Murray's Australian fossil necklace and inserted it into the time machine, teleporting them to an unknown time period. The gang would eventually find out that they had crash-landed in the time period of Sly's prehistoric ancestor, who they called "Bob." They helped Bob defeat Grizz, one of Le Paradox's lackeys, and afterward traveled to Medieval England.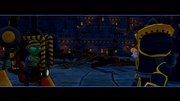 In England, Sir Galleth Cooper had been captured by the Black Knight. After freeing Galleth, the gang learned that the Black Knight also worked for Le Paradox and, like El Jefe, Toothpick and Grizz, was tasked with stealing the cane from the Cooper in their time period. While tailing the Black Knight for intel, Bentley found out that the Black Knight was actually Penelope in disguise, and that her disappearance was really a betrayal of him and the Cooper Gang.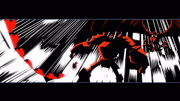 Penelope later affirmed that her betrayal was because she wanted Bentley to realize that he was wasting his own potential by being constrained by morals; as she put it, a person of Bentley's intelligence and expertise could make a fortune from weapon design. She claimed that Sly, with his thieving code of honor, had brainwashed Bentley into his current moral stance. Bentley denied this, claiming that Penelope had become blinded by the desire for money and power and that she was simply Le Paradox's pawn. He battled her, each one using a mech, and emerged victorious. Bentley's victory over Penelope instilled a newfound confidence in him, and he was finally able to face his personal demons—his thoughts about the Clock-La incident and his crippled legs—and overcome them.
The gang then traveled to 11th-century Arabia to coax Salim al-Kupar out of retirement. With his help, they learned that Le Paradox intended to forge documents in the past that would give himself a royal lineage in the present; at the same time, his theft of the Cooper canes would erase the clan from history. Despite their best efforts, the gang was unable to stop Le Paradox from returning to the present-day with the documents and canes.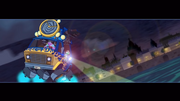 Pursuing Le Paradox and infiltrating his blimp, the gang retrieved the Cooper canes, thus saving the Cooper legacy. In the process, Le Paradox's time machine was damaged and began to malfunction, opening a tear in space-time. As the blimp began to fall apart, Bentley escaped with Murray while Sly battled Le Paradox. In the aftermath, Le Paradox was located by the police and arrested. Sly, however, was nowhere to be found. Bentley would continue to search for his friend, believing him to be out there somewhere.
Characteristics
Physical appearance
Bentley has green skin, an indigo shell (which has a blue rim and blue spots) with a light brown plastron, as well as beady black eyes that are almost always hidden behind thick brow-line tortoiseshell glasses. Bentley's outfit in Sly Cooper and the Thievius Raccoonus is apparently casual; he wears a red bow tie around his neck, what appears to be a short-sleeved dress shirt, a watch around his wrist, and a sweater-vest worn underneath his shell. It is also seen a few other times in the next two games. Oddly in this game, he also seems to have two strands of hair on his head, but they aren't seen in cutscenes.
In Sly 2: Band of Thieves, Bentley wears what appears to be a bulletproof vest along with complimentary knee and elbow pads, showing humorously that Bentley is a safety-first type of guy. He also wore a pith helmet on his head. In Sly 3: Honor Among Thieves, as well as being confined to a wheelchair, Bentley now wears what appears to be bicycle safety gear and a blue bicycle helmet. In Sly Cooper: Thieves in Time, he once again dons a pith helmet and a bulletproof vest, along with a gray button-up shirt underneath his vest. His wheelchair has also been further modified with robotic arms and boosters. His shell is now just plain blue. During some missions in Go West Young Raccoon, he also dons a fake mustache as a disguise.
Personality
Bentley is initially portrayed as a timid, shut-in person. He is also shown to be somewhat of a germaphobe, especially fearing the swamps of Mz. Ruby's hideout. He also gets paranoid at times and is more realistic than optimistic. However, he is always shown to be sure of his great brainpower, even in moments of doubt among the rest of the gang.
At the start of Sly 2, he seems as nervous and uptight as ever but is nonetheless willing to go out into the field. This nervousness eventually fades as the game progresses; after the capture of Sly and Murray, he is left to fend for himself, subsequently turning over a new leaf for his mannerisms. After pulling himself together and saving his friends, he appears more confident and relaxed than his previous self, even gaining a sense of sarcasm to rival Sly's, often countering Sly's remarks with his own quick wit. Still, Bentley is shown to be less confident with coming up with plans on the spot, which Sly and sometimes Murray are able to do, and tends to panic when he doesn't have "all the facts."
In Sly 3, Bentley continued to mature. As well as having to deal with his paralysis, Bentley seemed surprisingly brash at times. He has been told more than once he had "gotten devious over the years," since his plans have steadily become more violent and painful for the enemy. At various times in the game, Bentley confronted several villains by himself and was quite verbally offensive, such as when he baited Muggshot into getting arrested again. Even after his tragic confinement to his wheelchair, Bentley is still quite confident in his abilities and has quite successfully turned his weakness into his greatest strength.
Abilities
Bentley's greatest and most primary ability is his intelligence. He proves this through all four games by planning every master operation. He is also extremely skilled with technology, upgrading his wheelchair with various weapons and gadgets as well as inventing numerous devices. He also utilizes a large variety of bombs and darts with different effects.
Bentley is also a master hacker, mathematician, clue decipherer, inventor, gadgeteer, chemist, biologist, tactician, pickpocketer and demolitions expert. He also has a keen eye for secrets hidden in artwork, is capable of fighting numerous guards and can hold his own in vocalization against opera master Don Octavio. All of this can contribute to Bentley actually being a polymath.
Despite getting top scores at the Lumberjack Games Bentley is the least physically able member of the gang. As such he can take the least amount of hits from enemies and dish out the least amount of damage with his standard attacks. During the lemonade drinking competition, he drinks his slowest and spills quite a lot. However, his gadgets, which can significantly damage (or have other effects based on the used gadget) multiple opponents or ensure a quick escape from battle, more than make up for his limitations.
Gallery
Trivia
Appearances
References
Notes
References