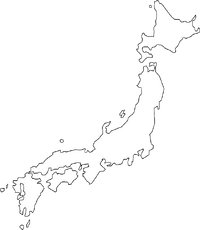 Japan is an island country in east Asia. Sly Cooper and the gang have traveled to Japan in Sly Cooper: Thieves in Time.
Japan was the location that Rioichi Cooper lived and used his thieving abilities. In the late sixteenth and early seventeenth century, he invented sushi and stole from thickly fortified castles.
Rioichi invented sushi in Japan by sacrificing his dying shark friend, who insisted on it. After the sushi became extremely popular, Rioichi opened a sushi house, which provided the perfect cover for the crimes he committed.
In 1603 AD, Rioichi was framed, captured and imprisoned by El Jefe, a time traveling dictator, for the poisoning of the Shogun, and had his sushi house seized, shut down and under guard. After Sly and the gang arrived with their time machine and rescued Rioichi from the Imperial Prison, they reclaimed the sushi house, before taking down El Jefe. Before they could defeat him, though, he stole Rioichi's cane and gave it to Cyrille Le Paradox.
The gang promised to find and return the cane, before time traveling to Cotton Mouth Bluff in the 1880s. Before long, Bentley and Murray returned to pick Rioichi up. After collecting his cane from Le Paradox's blimp, Rioichi returned to Japan. Following the incident, Rioichi continued to refine his master ninja techniques, as well as his sushi. While his thefts were never detected, his sushi restaurant was recognized as the finest in Japan. He eventually left Japan to place his cane and valuables in the Cooper Vault on Kaine Island.
Community content is available under
CC-BY-SA
unless otherwise noted.