About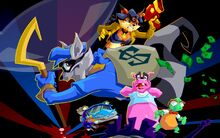 Sly Cooper is a media franchise that follows the adventures of eponymous protagonist Sly Cooper, a young adult raccoon and the latest descendant in a line of master thieves. While the Cooper family has accumulated a massive amount of wealth through their thieving ways, Sly places greater value on his friendship with his partners, Bentley and Murray, and his flirtatious relationship with Inspector Carmelita Fox.
The franchise began as a video game series, with its most recent entry, Thieves in Time, being released in 2013. Since its inception, Sly Cooper has expanded to include comics, a novel and both an upcoming television series and upcoming film.
Article showcase
The Panda King is a pyrotechnician that resides in the Kunlun Mountains. He was initially a member of the Fiendish Five who took part in the murder of Conner Cooper and the theft of the Thievius Raccoonus, but he was later defeated by Sly Cooper and arrested. Sometime after his incarceration, his daughter, Jing King, was abducted by General Tsao. In return for the Cooper Gang helping him rescue his daughter, the Panda King joined them as their demolitions expert for the Cooper Vault heist. (read more...)
How to help
This wiki is a collaborative website built by its users. We hope you too will stick around and help us become the best resource for all things Sly Cooper. Not sure where to start?
News
TV series
January 2021
There is no news on the TV series.
Community content is available under
CC-BY-SA
unless otherwise noted.